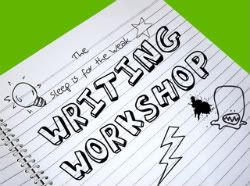 If you click on the picture it will take you to Josie's fantastic blog, Sleep is for the Weak. This week is week 3 of the Writing Workshop. This is my submission this week I chose to write about my best friends. I must admit it is quite short, but I am very worn out from the clocks changing and Piran not adjusting to it very well! But I am pleased I put something together:

I give you the girls in my life. From left to right we have City Girl, Girlie #2, me and Girlie #1. We do not see each other as much as I would like and we are very rarely in one place together at the same time (my wedding was the last time) but I love them all like mad.
City Girl is the one person in my life that understands the emotional ups and downs I can suffer from. She is larger than life and instantly befriends anyone she meets. She drinks and smokes and swears like a trouper. She will rip the living piss out of me, and she takes it when I give back as good as I get. She is guaranteed to make me laugh so hard I almost wee every time I see her.
Girlie #2 is slightly older than me and we have a lot in common. We can spend hours together in the pub chatting and laughing, discussing books and films and the people we love. She has been a source of inspiration to me. She has supported me and given me great advice both from a personal and a work perspective. She is amazing with Piran and I hope she gets to be a mum some day, she would be so good at it.
Girlie #1 is a very talented and amazing young lady. She made my wedding dress and she makes costumes for films and at Glynebourne and the English National Opera. I wish I had a quarter of her talent. She has a fun and silly side that I just love. I find her so easy to talk to and hours can pass just chatting away with a cup of tea and a slice of cake (vegan for her). She has made some amazing changes in her life over the last few years and I am so proud of her. She has been best friends with City Girl for too many years to count but they never make me feel like a third wheel, just three really good friends together.
This is what happens if all four of us are in London and go out for Sunday lunch. There may have been some wine involved!