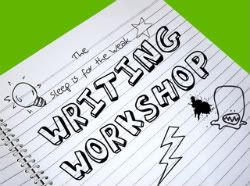 If you click on the picture it will take you to Josie's fantastic blog, Sleep is for the Weak (I have blog envy, I admit. I love her layout so much, wish I could do something that cool!). This week is week 1 of the Writing Workshop. Here is my post:
So, a perfect room just for me. I have been daydreaming about this for 24 hours and I just cannot make up my mind what such a room would contain. The thing is, it would be massive if it had everything in it that I would like to do. Then it hit me. It would be my very own Room of Requirement.
Today I am not feeling well, I have toothache and PMT and I am generally grouchy so my room would be cosy and warm. There would be a massive bed with a soft fluffy duvet wrapped in white, freshly washed 100% cotton covers. There would be hundreds of pillows and I would have a lovely hot water bottle. There would be flannel pyjamas for me to wear and a woolly hat. The walls would be lined with chick flicks on DVD and I would while away hours sobbing at happy endings and drinking endless cups of tea and delicious biscuits with no calorific value what so ever! I would probably snooze every now and then too.
If I was in a creative mood the door would open to a light airy attic studio. It has skylights in the roof that flood the room with light. There is a big square table in the middle of the room, big enough to lay out and cut fabric, with my sewing machine on one side. There is a big wooden cupboard and when you open the doors there are shelves and shelves of beautiful fabric. There are baskets overflowing with buttons and ribbons and bits and pieces. There is a bookcase stuffed with books about sewing and crafts. One wall is painted with blackboard paint and I scribble lists and ideas and draw pictures in chalk. I can sew and create and listen to audio books as I do.
If I was craving solitude I would be walking into a library where books line every wall and there is even a mezzanine floor above with more bookshelves stuffed with books. There is a fireplace with a roaring fire and a desk in the corner for writing letters. An overstuffed cosy armchair with a soft blanket are in front of the fire and I will curl up here and read books and drink mulled cider. The weather would roar outside and I would be cosy and warm and content inside.
When I was feeling full of life the room would have big french doors that opened out onto a balcony. I could hear the sea and soft breezes would stir the floor length curtains. I would sit at a little table and drink tea and juice and eat croissants for breakfast whilst reading the paper. The room would be white and full of light. I would sit there all day, writing on the laptop and soaking up the sunshine.
My last room would be a big kitchen, with tiled floors and dark wood and a big family wooden table in the middle of the room. When life was too hectic and I was stressed out I would slip in and start to cook an involved dinner that takes a long time and needs to be lovingly prepared. I would listen to the afternoon play on radio 4. I would bake tasty treats for the ones that I love and sneak my Mum in to share a cup of tea and have a gossip with me.
I could go on forever, but these are my favourites. Now my toothache is so bad I must go and hide in my real bed and dream of infinite possibilities.